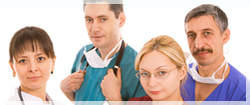 Our Location
11752 Garden Grove Blvd. #121
Garden Grove, CA 92843
Telephone :
(714) 530-7946
Fax :
(714) 530-7947
Email Address :
donnington@att.net
Office Hours
Monday - Friday :
8:30 am - 4:30 pm
On call 24 hours / 7 days a week.
Home Care
Donnington Corporation's mission is to provide quality and comprehensive home care services to the residents of Southern California. Our staff is experienced in delivering the services needed to meet the patient's non-medical, physical, and family needs.
We offer the following services:
Compassionate Hospice Care
Expert Alzheimer's care
Monitoring of medications
Catheter and Colostomy care
Expert Alzheimer's care
Monitor medications
Trained in health observation and vital signs
Preparing nutritious meals
Bathing, grooming and toileting
Charting of health condtions
Help with rehabilitation care and therapies
Housekeeping and home health assistance
Driving, errands and appointments
We make sure that we can help you fully recover while you stay at home. We ensure that the health care provider and support staff assigned to you can meet your unique care needs.
For more information about our home care services, call us at (714) 530–7946.